Seasonal Meals
---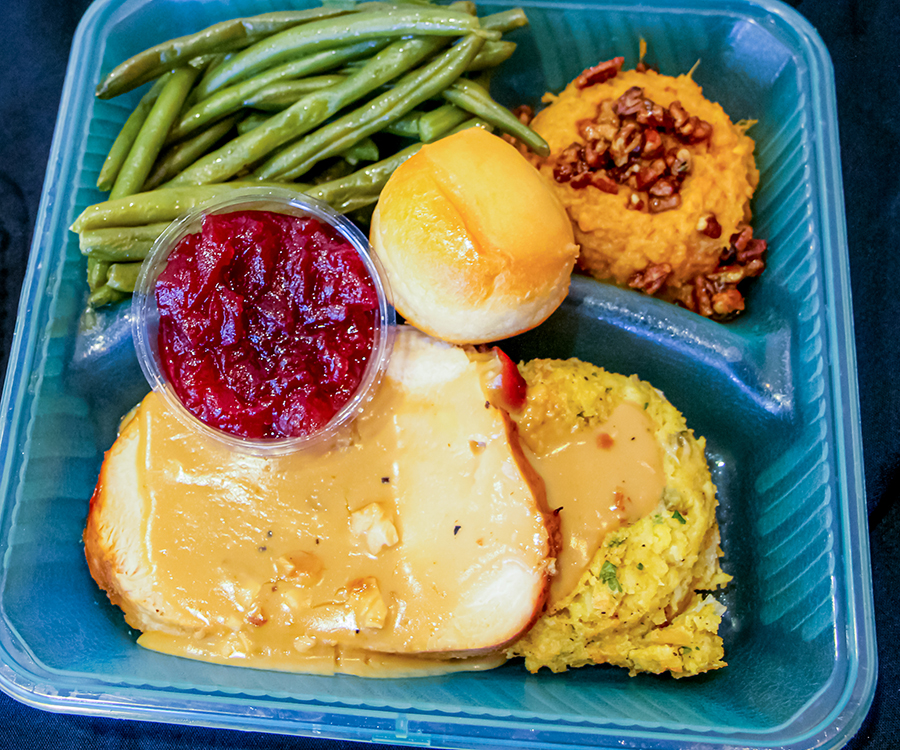 Hosting a Virtual Office Party? Have fun with a seasonal luncheon and games!
Challenge your colleagues to a game of virtual bingo or host a virtual white elephant exchange while enjoying a seasonal luncheon delivered to your office.
UGA Campus Catering is cooking up a special menu featuring oven roasted turkey, maple glazed ham, vegetable strudel and more on December 10, 11, 17 and 18! Meals are served hot and include your choice of an entrée, sides and a dessert for $12.95 per person for groups of 15 or more.
Seasonal meals will be served in a reusable container that is yours to keep. These containers are microwave/dishwasher safe, made of 30% recycled material, and recyclable. There is no BPA, melamine, heavy metals, or any toxic components in the material.
To order, select your preferred date and your meal choices from the options below. Customers can place their group meal order from November 9 - December 4, 2020, by emailing catering@uga.edu or calling (706) 583-0892, Monday – Friday, 8:00 a.m. – 5:00 p.m. Meals can be picked up from Joe Frank Harris on East Campus or delivered to your on-campus office.*
*Delivery is available for a $20 fee on orders of 25 or more. Each group order will be delivered to one designated location.
---
Seasonal Meal Pick Up and Delivery Dates*
Thursday, December 10, 2020: 11:00 a.m. – 1:30 p.m.
Friday, December 11, 2020: from 11:00 a.m. – 1:30 p.m.
Thursday, December 17, 2020: from 11:00 a.m. – 1:30 p.m.
Friday, December 18, 2020: from 11:00 a.m. – 1:30 p.m.
*Customers should select meal delivery times in thirty minute increments beginning at 11:00 a.m. until 1:30 p.m.
---
Seasonal Meal Options
All seasonal meals will include eco-compostable cutlery and a napkin. All sales are final and there will be no refunds for missed meals.
Please choose from the meal options below (NO SUBSTITUTIONS):
Option 1:
Oven Roasted Turkey with Cranberry Sauce

Dinner Roll

Homemade Dressing with Gravy
Sweet Potato Souffle
Seasonal Vegetable
Homemade Pumpkin Pie
Option 2:
Maple Glazed Ham

Dinner Roll

Southern Style Collard Greens
Macaroni and Cheese
Seasonal Vegetable
Homemade Pumpkin Pie
Option 3:
Vegetable Strudel

Dinner Roll

Honey Carrots
Macaroni and Cheese
Seasonal Vegetable
Homemade Pumpkin Pie
Additional Add-On Options:
Cokes (12 oz) - $1.50 each (Coke, Diet Coke, Sprite, Coke Zero, or Dasani)

Tea (Gallon) - $3.50 each

Coffee (160 oz) - $24.99 each

(Alternative Fuel Medium Blend, Regular or Decaf)
---
Virtual Office Party Games
Virtual Bingo:
View and download bingo card here. (PDF)
Distribute / email the Bingo board to participants.
Decide on a timeline (ex. a single video conference call, or give participants a week or longer to complete).
Participants get a point when they learn information from a coworker that applies to the Bingo board.
Have players track performance, marking an "x" or similar for each box they complete. The center square is a free point for all players.
Award prizes for the first player to complete challenges like an entire row or an entire board.
Virtual White Elephant:
Set a budget.
Pick a date.
Have all participants buy and wrap a fun present.
Gather together on video call.
Assign numbers to determine picking order.
Hold up presents to show to all participants.
Each participant picks a present. The gifter unwraps present on camera.
The next player takes a turn, either stealing the present or unwrapping a new present.
The game continues until all presents are gone.
Once the event concludes, gifters send presents to the rightful owners.